Lewotobi volcano
Updated: Jul 4, 2022 19:24 GMT -
Refresh
stratovolcano 1703 m / 5,587 ft
Flores (Indonesia), -8.54°S / 122.78°E
Current status: normal or dormant (1 out of 5)
Last update: 9 Dec 2021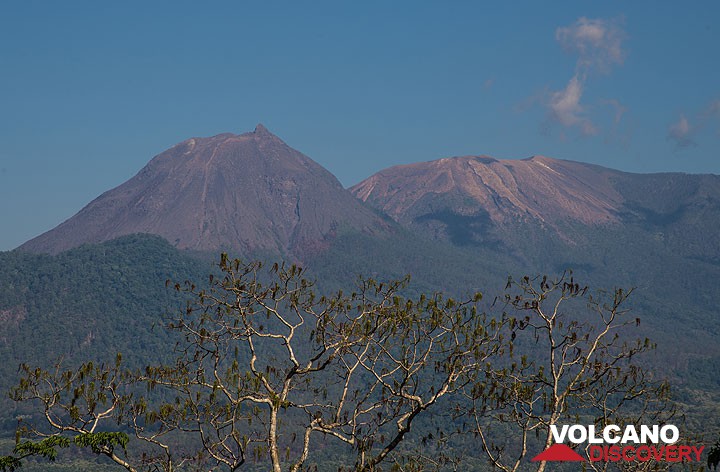 Lewotobi Lakilaki and Lewotobi Perempuan twin volcano
Lewotobi volcano at the eastern end of Flores Island is one of the most frequently active volcanoes in the region. It has two peaks arranged on a NW-SE line separated by 2 km and a 1232 m high saddle. This gave the twin volcano its name Lewotobi "husband and wife" (also spelled Lewetobi).
The two peaks correspond to the Lewotobi Lakilaki and Lewotobi Perempuan stratovolcanoes. Lewotobi Lakilaki (1584 m) has a summit crater of 400 m diameter open to the north. Lewotobi Perampuan (1703 m)'s crater is 700 m wide.
Typical eruption style:
Explosive
Lewotobi volcano eruptions:
2003, 2002, 1999, 1991, 1990, 1971, 1970, 1968-69, 1939-40, 1935, 1932-33, 1921, 1914, 1909-10, 1907, 1889, 1869, 1868, 1865, 1861, 1859(?), 1675
Lastest nearby earthquakes:
No recent earthquakes
Background
Lewotobi Lakilaki has been frequently active during the 19th and 20th centuries, while the taller and broader Lewotobi Perempuan has erupted only twice in historical time. Small lava domes have grown during the 20th century in the summit craters of both volcanoes. A prominent flank cone, Iliwokar, occurs on the east flank of Lewotobi Perampuan.
Lewotobi Photos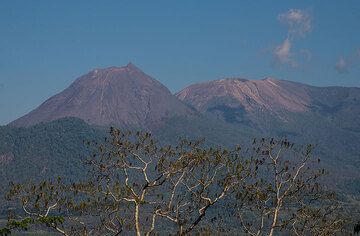 The Lewotobi Lakilaki and Lewotobi Perempuan twin volcano (meaning "husband" and "wife") is one of Flores'most active volcanoes. (Photo: Tom Pfeiffer)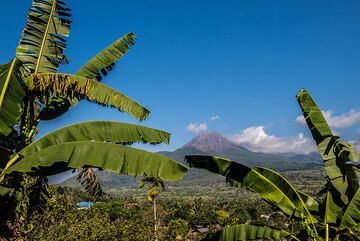 Lewotobi Lakilaki ("husband") volcano in eastern Flores seen on the way to Larantuka. (Photo: Tom Pfeiffer)
2003 eruption
Lewotobi volcano erupted on 30 May 2003. Ash plumes were seen 200 m above the summit and light ash fall occurred at the observatory 5 km from the crater. Small eruptions continued in June and July, producing ashfall in the villages of Bawalatang, Duang, and Boru.
On 31 August, a more powerful explosion produced an ash plume to a height of ~2.5 km above the summit that drifted W, incandescent lava bombs ignited forest fires up to 1 km radius from the crater. Ash fall damaged crops on nearby farmland. Following that 2003 eruption, according to the daily Jakarta Post, at least 565 villagers living on the slopes of Lewotobi were affected by sulfur and ash emissions. The residents experienced respiratory problems and skin afflictions.
The eruption ended sometime in October.
---
Source:
GVP monthly activity reports
2002 eruption
An moderate explosion occurred at the volcano on 12 October 2002, the first activity since 1999. ...
more
1999 eruption
Small ash explosions began at Lewotobi volcano on 21 March 1999.
The activity consisted typically of weak steam and ash emissions reaching a few 100 m above the summit, sometimes interrupted by more powerful explosions. In April and May, mild strombolian activity with visibly incandescent lava was observed, ejecting bombs to 50-75 m above the crater. A stronger explosion, accompanied by a blast, occurred on 1 July 1999. The explosion threw glowing bombs to more than 500 m distance from the crater, igniting forest fires that burnt vegetation up to 2.5 km north of the volcano. Minor ash fell occurred in an 8 km radius, including the villages of Boru, Bawalatang, and Watukubu.
No reports of further activity after July are available, when the eruption probably started to die out.
1991 eruption
Mild eruptive activity resumed at the summit crater in the first half and until around July/August of 1991. Mild ash emission and strombolian activity was observed between March-July. The highest reported ash plumes reached about 800 m and incandescent material reached 100 m height above the crater. It was reported that hot ash fall (smelling of sulfur) onto nearby areas caused residents to flee during eruptions in July.
1939 eruption
Lewotobi volcano erupted on 17 December 1939, exactly 6 years after the start of the previous eruption. It is reported that the eruption caused lapilli fall "like hen eggs" at the Hokeng mission post for 10 minutes.
1933 eruption
A powerful ash eruption occurred at Lewotobi volcano on 17 December 1933. Incandescent bombs were visible from Doeang and Nobo.

See also: Sentinel hub | Landsat 8 | NASA FIRMS