Bardarbunga volcano
Updated: Jun 1, 2023 06:04 GMT
-
Stratovolcano approx. 2000 m / ca. 6,560 ft
Central Iceland, 64.63°N / -17.53°W
Current status: normal or dormant (1 out of 5)
Last update: 25 Jul 2022 (M 4.4 and 4.9 quakes, inflation continues)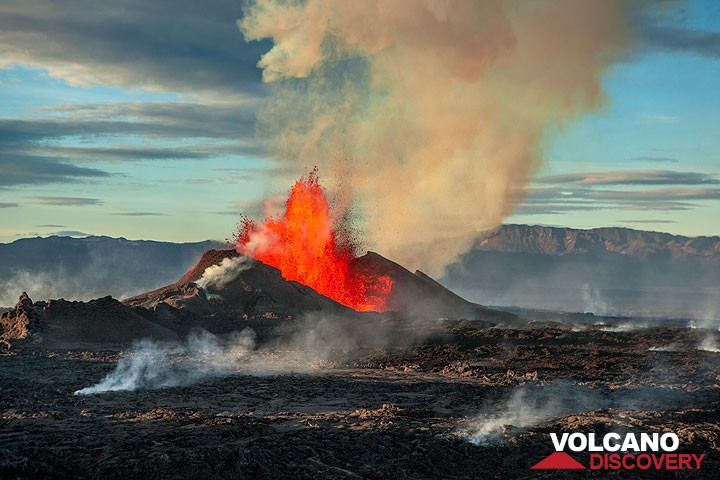 Lava fountains from the Holuhraun fissure eruption August 2014
Bardarbunga (Bárðarbunga) is a large central volcano lying underneath Iceland's 500-m thick Vatnajokull glacier in the center of the country. It is located at the junction between the eastern and northern volcanic rift zones in the area where the present-day center of the mantle hot spot beneath Iceland is thought to be.
Bardarbunga has had about 300-400 eruptions during the past 10,000 years which includes only 23 eruptions historic times (approx the past 1000 years), i.e. it seems to erupt currently at rates of approx. twice per century, the last one having occurred in 1910. A massive explosive-effusive eruption (VEI 6) in 1477 resulted in a large ash and pumice fall-out deposit.
Approx 8600 years ago, Bardarbunga produced the largest known lava flow during the past 10,000 years on earth (more than 21 cubic kilometers of volume). The lava was erupted from the Veidivötn fissure system and traveled more than 100 km to the south coast.
Typical eruption style:
Large effusive eruptions, some explosive activity.
Bardarbunga volcano eruptions:
1080(?), 1159(?), ca. 1210, ca. 1270, ca. 1350, ca. 1410(?), 1477 (very large effusive-explosive eruption), 1697, 1702, 1706, 1712, 1716, 1717, 1720, 1726, 1729, 1739, 1750, 1766, 1769, 1797, 1807(?), 1862-64, 1872(?), 1902-03, 1910,
2014-15
(Holuhraun fissure eruption)
Latest nearby earthquakes
No recent earthquakes
Background
The volcano is hidden beneath the northwestern part of the Vatnajökull glacier, and contains a 700-m-deep caldera that is hidden beneath ice and has extensive flank fissures, from where eruptions have taken place: the Veidivötn fissure extends for over 100 km to the SW, almost reaching Torfajökull volcano, while the Trollagigar fissure extends 50 km to the NE touching Askja volcano.

A major risk from Bárdarbunga are jökulhlaups (glacier-outburst floods), that can be hazardous for areas in all directions around Bárdarbunga.
Bardarbunga Photos
Lava fountain and lava flows from the Holuhraun fissure eruption on Iceland, Sep 2014 (Bardarbunga volcano) (Photo: Lukas Gawenda)

Multiple lava fountain from the Holuhraun fissure eruption on Iceland in Sep 2014 (Bardarbunga volcano) (Photo: Lukas Gawenda)

_0062169_4_star_small.jpg
Fissue eruption out of airplane from Bardarbunga eruption in Holuhraun area. (Photo: AndreasIrgang)

Lava fountains from the main vents at the Holuhraun fissure eruption (Bardarbunga volcano, Iceland) on 13 Sep 2014 (Photo: MartinHensch)



See also: Sentinel hub | Landsat 8 | NASA FIRMS