Erta Ale volcano
Updated: Feb 2, 2023 09:13 GMT
-
Shield volcano 613 m / 2,011 ft
Danakil depression, Ethiopia, 13.6°N / 40.66°E
Current status: erupting (4 out of 5)
Last update: 1 Feb 2023 (Smithsonian / USGS Weekly Volcanic Activity Report)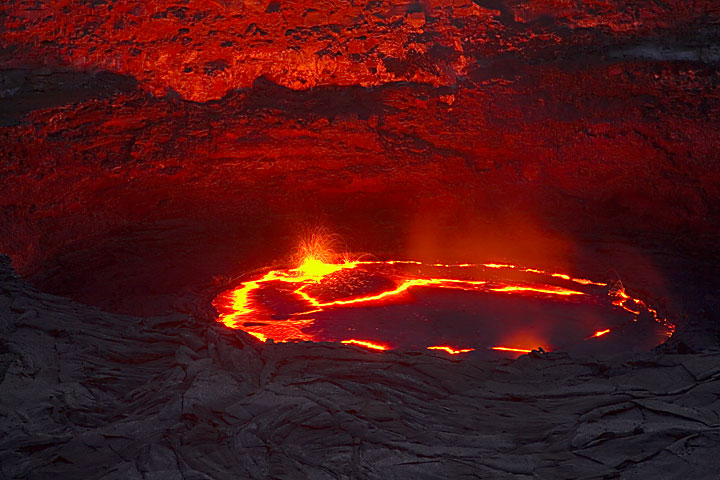 Erta Ale's active crater containing the lava lake
Erta Ale volcano is a large basaltic shield volcano in the Erta Ale volcanic range in the central northern Danakil depression (NE Ethiopia).
It is famed for its persistent lava lake which has been active during most of the past decades since it was first discovered in the 1960s.
Erta Ale is only 613 m high, but as typical for a shield volcano has a very gentle slopes and a large 40 km diameter base. The summit is truncated by a complex, elongated 1700 x 600 m wide caldera which contains vast lava flows and several larger and smaller pit craters, most notably the active north and south crater, which contains the lava lake at present.
Erta Ale is one of the main attractions of the Danakil, and had became a popular tour destination in recent years. Unfortunately, the deadly attack on 4 January 2012 against tourists and scientists camped on the crater rim, in which several were killed, illustrates that the area is politically unstable and can be subject to terrorist attacks. Anyone visiting the volcano should be aware of this.
Typical eruption style:
Effusive. Persistant lava lake.
Erta Ale volcano eruptions:
1873(?), 1903(?), 1904(?), 1906, 1940, 1960, 1967-2004, 2005-ongoing
Latest nearby earthquakes
No recent earthquakes
Background
Erta Ale is one of the few volcanoes on the world that have an almost persistent lava lake. It is an isolated basaltic shield volcano, 50 km wide, rising more than 600 m from below sea level in the barren Danakil depression.
The volcano contains a 0.7 x 1.6 km elliptical summit crater with several steep-sided pit craters, one of them containing a lava lake. Another larger 1.8 x 3.1 km wide depression, elongated parallel to the trend of the Erta Ale range is located to the SE of the summit and is bounded by curvilinear fault scarps on the SE side. Fresh-looking basaltic lava flows from these fissures have poured into the caldera and locally overflowed its rim. The summit caldera is renowned for one, or sometimes two long-term lava lakes that have been active since at least 1967, or possibly since 1906. Recent fissure eruptions have occurred on the northern flank of Erta Ale.
---
Source: GVP, Smithsonian Institution
Erta Ale Photos
| | |
| --- | --- |
| Erta Ale lava lake sunrise - january 2013 (Photo: Tom222) | overview of of Erta Ales north crater with nice lavaflows - January 2013 (Photo: Tom222) |
| creating peles hair - hornito in the middle of Erta Ales north crater (Photo: Tom222) | The caldera of Erta Ale with the active lava lake beneath a moon-lit sky. Orion above the lava lake. (Photo: Tom Pfeiffer) |



See also: Sentinel hub | Landsat 8 | NASA FIRMS
Erta Ale volcano tours
14 days expedition to Erta Ale volcano and Dallol hydrothermal field (Danakil desert, Ethiopia)
14 days / 13 nights - Moderate
Price $ 4530
no scheduled dates at present